It's summer, and that means it's time to hit the road…big vacation, long weekend, short road trip, even a staycation exploring nearby hot spots. Wouldn't a $1,000 Visa Travel Gift Card add to the fun?Enbright Credit Union is giving away that very thing, and there are two ways to win: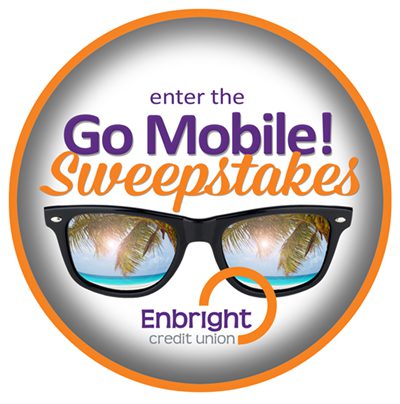 · Open an Enbright Free Checking Account, with all its mobile benefits, or
· Visit www.enbrightcu.com/signmeup and use the sweepstakes entry form
While you're on the road, we're with you.
Enbright's Free Checking account comes with a full range of mobile ways to manage your money…whether you're couch surfing or you're in Hawaii. Look at all the things you can do from your smart phone, tablet, or laptop:
Debit/ATM Card – All checking accounts at Enbright Credit Union come with a debit/ATM card for purchases and access to cash wherever you are.
Online Banking – Visit the Virtual Branch from your desktop or tablet, or bank online from the Enbright CU Mobile App for either Android or iPhone.
Direct Deposit and Online Statements – Why have checks and statements sitting in your mailbox while you're away? Have your payroll or Social Security check deposited to your checking account automatically, and get your statements online. Sign up for e-statements in Virtual Branch.
Transfers – Need to move some money around? Make transfers using Virtual Branch or the Enbright Mobile Money app.
Mobile Deposit – Took off for vacation and forgot to deposit that check? Do it from your smartphone with the Mobile Banking App.
Enbright makes being mobile easier, freeing up your time for the things that matter to you. Open your Free Checking account today – you can do it online – and you'll automatically be entered to win the Enbright "Go Mobile" Sweepstakes.* If you already have an account, enter to win today. Now, let's go!
*See official sweepstakes rules for details.